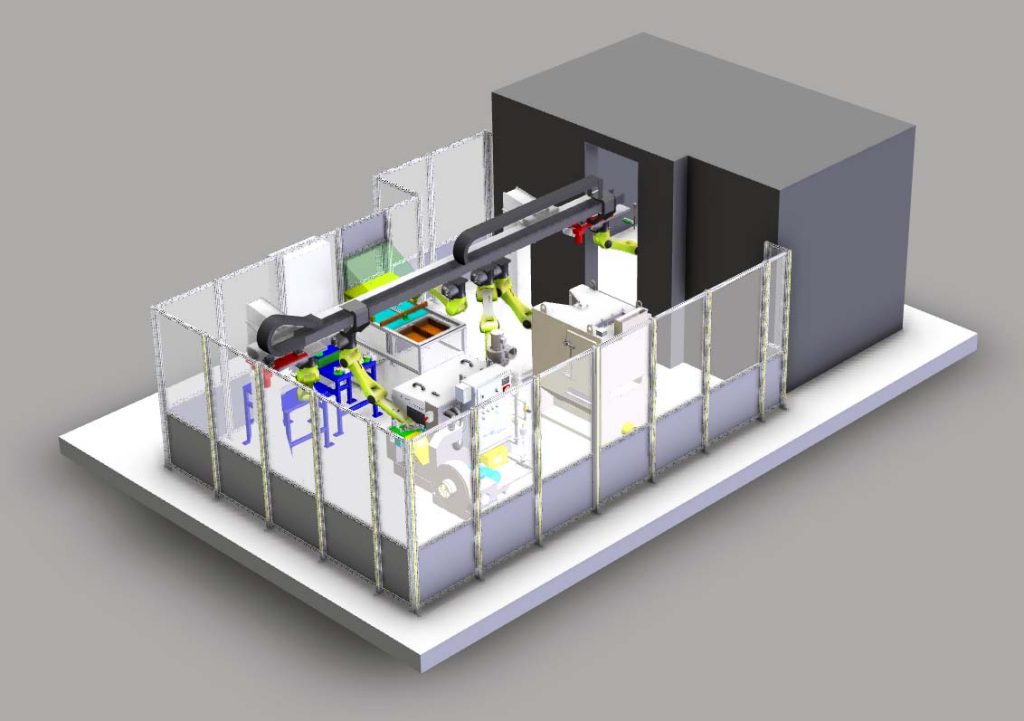 MWES designed and built a turn-key system to robotically machine steel plates.
A firm came to MWES looking to robotically automate the machining of plates in a single turn-key system, and MWES delivered such a system. Machining these types of plates can be a challenging task, but with robotic automation, this task can be done quickly and efficiently.
MWES developed a turn-key solution that would allow a single operator to run the complete plate machining system. The Plate Machining process requires the operator to select the parts to be run on the main HMI for the machining center. The operator then loads the required bar stock on the bar feeders or slugs on the slug conveyor. The operator will then need to make tool changes to the automated material handling equipment.
For parts smaller than 4 inches in diameter, bar stock is loaded on the bar feeder infeed tray.  The bar stock will then be automatically loaded into the hollow spindle and the required amount of stock will be extended into the machine. The part will then be machined as required on the face and the outside diameter while in the main headstock. The part will then be cut off from the bar and transferred to the secondary headstock. The opposite side would then be machined as required. After machining, the guard door automatically opens and the overhead material handling robot unloads the part from the secondary headstock.  The door then closes and the process starts over to make the desired quantity of parts entered by the operator at the HMI.
After deburring, the part is transferred to the washer and then to the gaging station.  The part is checked as required for proper dimensions. Rejected parts are loaded onto an inspection slide and an indicator will signal the operator of a failure. The equipment then cycle stops after completing the current part at the machining center.
After gaging, the robot loads the part into the tray in the next available location slot. When the tray is full, the robot fills the next adjacent tray on the cart with parts. When two empty slots are remaining, the robot signals to the operator and a message on the HMI that the cart will soon be full. Once the cart is full, the system stops placing parts in the tray until a new cart has been introduced to the system
The system MWES built for this firm afforded them a greater ROI and a more efficient plate machining process.
Midwest Engineered Systems has a wide range of experience in building robotically automated machine tending systems. If you're looking to improve your machining throughput, we have the knowledge and experience to make the project a success.
Contact us to learn about how Midwest Engineered Systems can automate even your most complex and challenging operations today!
Innovation Through Automation
A steel plate manufacturer.