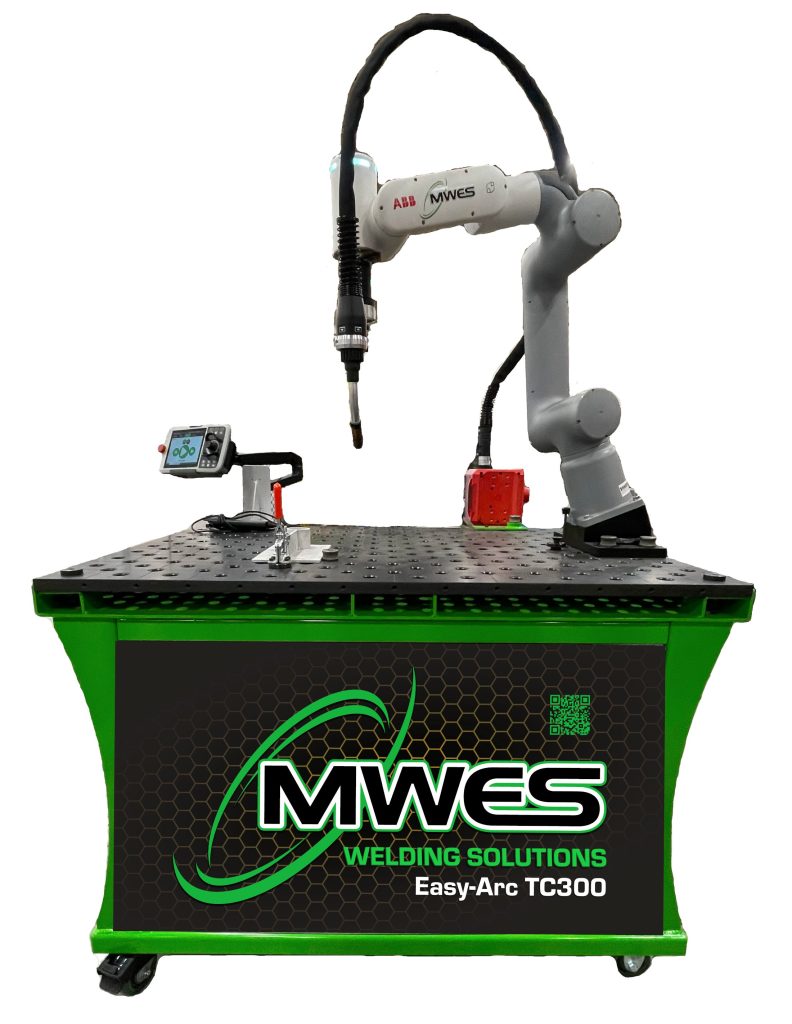 Safe, mobile, dependable, repeatable and easy to use.
Today Midwest Engineered Systems announces its entry into the robotic weld cart arena with the MWES Easy-Arc Collaborative Robot Weld Cart. This affordable and flexible welding solution is an ideal investment in times when skilled welders are in short supply and onshoring is a more profitable option.
The Easy-Arc Weld Cart integrates an ABB collaborative robot (Cobot) and a Fronius welding package, all mounted on a custom-built steel cart that features a Bluco modular table top and a swing arm for the touchscreen HMI pendant.
The entire weld cart is designed for operator safety and ease of use with a short learning curve for novices. Using a Cobot design and operating speeds allows for its use in areas with minimal safety guarding which would be prohibitive to more conventional industrial robots.
What can the MWES Easy-Arc Weld Cart do for me?
In short: perfect welds are as easy as point, click, run. With the ongoing shortage of trained welders, the Easy-Arc Weld Cart will allow a worker, with no welding experience and a short learning curve, to operate this robotically automated welding system. Easy-Arc's safe, self-contained, easy-to-use robot welding cart includes an intuitive touch display tablet and accompanying software that allows the user to easily direct the robot's welding functions. Not only that but the cart itself stands within a small footprint and that rolls on casters so that it can easily be moved around a shop floor or work environment.
The Easy-Arc Weld Cart features an ABB CRB15000 GoFa Cobot with a 950mm reach which is a 12% longer reach than other comparable 5 kg Cobots and with a best-in-class motion control, it is considered faster than other Cobots in its class. The Fronius TPS 320i welding package comes standard with the cart and includes an air-cooled torch package, integrated spool holder, and an innovative HMI touch display pendant. The robotic system is safely designed with rounded geometry, and no pinch or trap points, and is safety-certified Category 3/PLd. The standard Bluco modular table top allows fixturing for any repeatable precision the robot requires on a 1000 x 1400mm surface. On top of all that, Easy-Arc includes a standard 1-year warranty.
Upgrade Options? Yes, it has those too.
If you need additional or upgraded functionality we have you covered there as well. There are additional options available including on-site support and training, upgrades to the welding functionality, and a gas cylinder mount.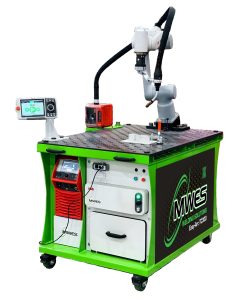 Easy-Arc Start: Three days of on-site support, training and programming by an MWES Automation Technician
Water-Cooled Torch Upgrade: Allows for a longer duty cycle and higher amperage than the base air-cooled torch package
Push/Pull Aluminum Weld Package Upgrade: Includes a water cooler push/pull torch package, a water recirculator and power source software upgrades
Gas Bottle Holder: Allows for the mounting of a standard-size welding gas bottle onto the floor near the cart or mounted on the back of the cart
Automatic Torch Cleaner: A self-contained unit with a built-in nozzle reamer, wire cutter and anti-spatter spray unit
What will Easy-Arc do for me?
If you want to supercharge your welding operations when skilled welders are in short supply, then the MWES Easy-Arc TC300 Weld Cart is your best solution. The Easy-Arc Weld Cart is an affordable and upgradable solution that will bring about a solid return on your investment.
You can catch a demo of the Easy-Arc Weld Cart in Chicago from September 11-14 at this year's FABTECH at McCormick Place. If you can't make it to the show then feel free to reach out to us and speak with our knowledgeable staff to learn more and to get a quote on the Easy-Arc TC300 Weld Cart.
Additionally, Midwest Engineered Systems has decades of experience in robotic welding systems of all sizes and complexities. We have provided robotic solutions to thousands of businesses… make the next one yours!