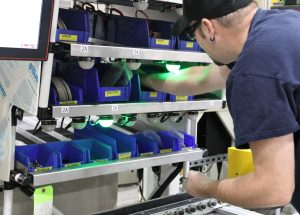 Workplace injuries and illnesses are a significant problem for workers and their employers in every sector of the economy. According to the U.S. Bureau of Labor Statistics, over 2.6 million work-related nonfatal injuries occurred in 2021 in the private sector, with manufacturing jobs having the highest rate of workplace injuries of all jobs. By being one of the most hazardous, the manufacturing sector alone accounts for 15% of all nonfatal injuries and illnesses. Some of the most common causes of injuries in manufacturing are slips and falls, contact with machinery, overexertion, repetitive motion and exposure to harmful substances or work environments.
Workplace injuries not only cause physical pain and suffering for the worker but also financial losses for the employer. The total cost of workplace injuries to businesses includes medical expenses, workers' compensation claims, lost productivity, legal fees, property damage, fines and the potential loss of reputation. According to the Occupational Safety and Health Administration (OSHA), employers collectively pay almost $1 billion per week for direct workers' compensation costs alone, with in-direct costs soaring to tens of billions per year.
Robotic Automation to the Rescue
Manufacturing is one of the most important sectors of the economy, but also one of the most hazardous. One of the easiest ways to prevent injuries in a manufacturing environment is to transfer the dangerous, physically demanding and repetitive work over to robots. Robotic automation can be integrated into any existing manual labor operation seamlessly with an emphasis on safety and productivity. These robot systems require minimal human intervention to operate and eliminate work that could otherwise potentially injure a worker.
Midwest Engineered Systems specializes in designing and integrating robotic automation systems for a wide range of manufacturing and factory operations. Our systems are built first and foremost with worker safety at the forefront by following safety standards and guidelines such as ANSI/RIA R15.06-2012. The safety systems we employ include extensive perimeter fencing, light-curtain sensors and software systems that monitor the robot's behavior. These safety systems work in conjunction to enforce a safe working environment for not only the workers but the equipment as well.
If the prospect of the expenses associated with worker injuries cutting into your bottom line concern you, please contact us today. Our Applications Engineers can guide you through the process of transitioning your existing manual manufacturing operation over to a safely integrated robotically automated operation. Moreover, our return on investment calculator can give you some insight into how much money you can save over time by moving from manual labor to robotics.