Standard Packaging Palletizers
For Incredible Drop-in Palletizing Throughput
MWES's standard robotic palletizer system is everything you need to automate the pallet stacking process. With an industrial robotic arm at its core, the system is designed to handle most product distribution needs quickly and efficiently.
MWES Standard Palletizer Benefits
Easy to Install – compact footprints and all-inclusive systems built in ruggedized structures make it easy to fit in most spaces manual palletizing occurs
Easy to Operate – Intuitive user interfaces and bar code reading ability make it easy workers to operate the system with minimal training
Easy to expand – MWES systems are built with advanced technology that is designed to be modified and updated as pallet stacking arrangements and products change.
MWES Palletizer Performance
While speed is a factor of the products and packaging involved, MWES's standard palletizing system is designed to operate at rates at or above similar manual operations. Some performance highlights of the system include: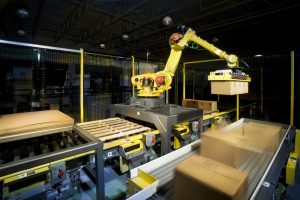 Up to

20 boxes per minute

stacking rate
Up to

500 lbs. layer weight

Able to pick

layers as short as 2 inches

in height.
Can operate on taped, stapled or strapped corrugated boxes as well as many shrink wrapped products.
Contact us today to learn more about our systems and how they can help your production processes become more efficient!