Visit Midwest Engineered Systems at the 2019 Automate Show, Booth 7311 April 8th through the 11th at McCormick Place in Chicago, IL. MWES will be showcasing a few of the technologies behind one of their latest assembly line installations. See a demonstration of one of the core aspects of the robotic assembly line in action. To experience the entire 36-meter long production system, including how machine vision, robotic positioning and automated grinding systems operate in concert, check out MWES's VR simulation area.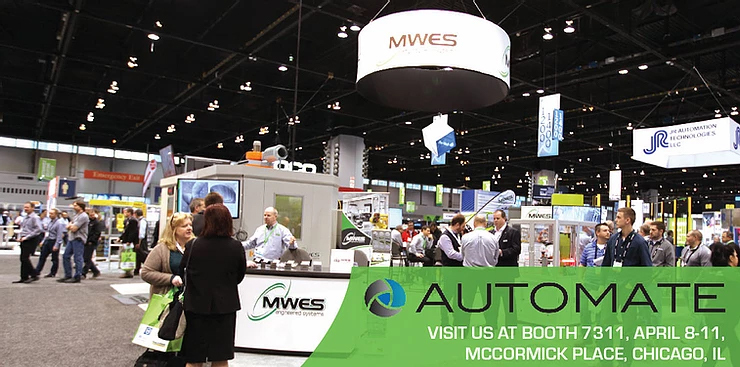 MWES will also be demonstrating our ADDere additive manufacturing services. With its ability to print in exotic metals like Titanium, Inconel and other superalloys, as well as stainless and carbon steel, the system is ideal for a number of production processes including low run production and prototyping of large components, adding features to components built through other processes or repairing expensive or out of production parts. Whether looking for your own additive manufacturing system or looking for large-scale metal printing services for your components, visit us and speak with representatives on how we can bring additive benefits to your process.
If you're interested in learning more about what MWES can do for your production processes, we will have application and sales engineers on hand to answer your questions. If you'd like to schedule a time at the show to discuss specific projects please feel free to contact marketing@mwes.com or call 414-327-0000 to set up a time during or after the show!