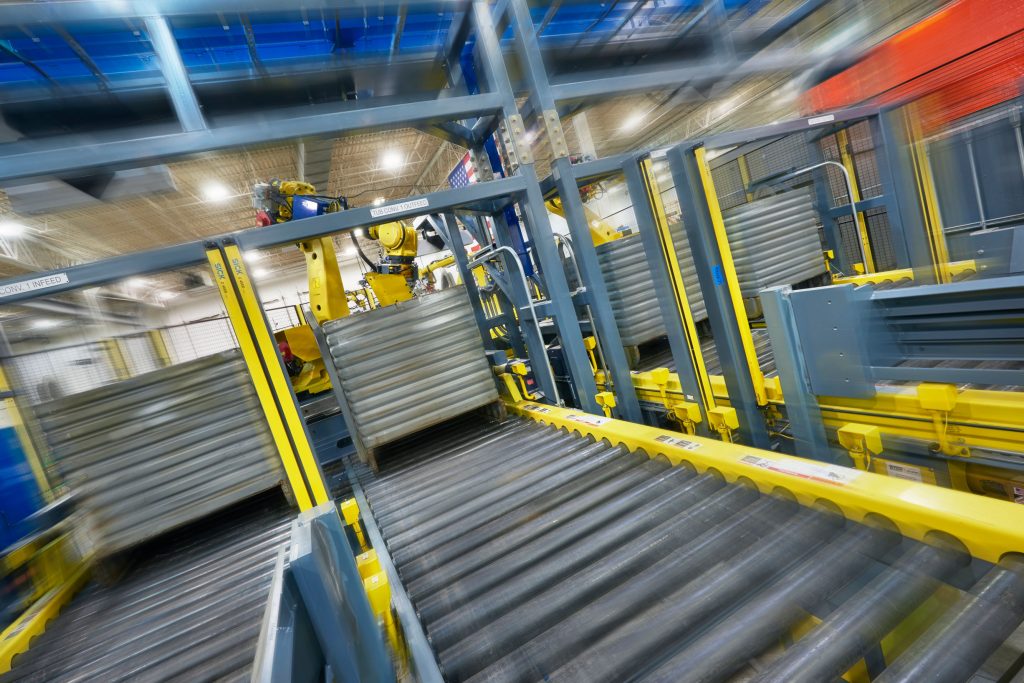 This labor-intensive job was automated with a number of robotic systems to reduce labor injuries, factory noise, and to increase production throughput.
Manually picking from a conveyor is a difficult, labor-intensive job.  A firm came to Midwest Engineered Systems looking to switch over their manual operation to one that is robotically automated. By going to robotic automation, worker injuries, factory noise, and an increased production throughput improved by 10-20%.
Midwest Engineered Systems provided this customer with a random conveyor robotic picking system using recirculating conveyors, vision systems and industrial robot integration.
Recirculating Conveyors
Allows for buffering of parts
Parts pass through scanners and are presented to robots without human interference
Conveyor part tracking to pick parts "on the fly" off of the re-circulation conveyors
Vision Systems
SICK PLB technology mounted above conveyors on tracking slides to locate randomly conveyed parts
The 3D vision system uses a laser distance system to monitor part location and position
The vision system locates parts on the moving conveyor and directs each of the robots to the proper gripping position
Robotic Automation
Three Fanuc robots with magnetic end-of-arm tools (EOATs) for part picking
FANUC vision technology for part verification and exact location determination on the magnet
Robots properly space parts on outgoing roller conveyors
Automated tool changers are used to switch between small and large magnetic grippers
Process Testing & Install – All equipment was set up in the MWES facility for production trial runs and testing before installation. Final runoff testing was conducted at the customer's site to ensure the system met all requirements
The final robotic picking system provided the customer with the following benefits:
Less than 2 Year Return on Investment (ROI)
Removed staff from a dangerous and hot work environment & decreased workforce injuries
Increased productivity by 10-20%
Increased quality and temperature control due to a steady flow of product to the heat treatment process
Overall noise reduction
Midwest Engineered Systems has a wide range of experience in building robotically automated conveyor picking lines. If you're looking to improve your conveyor picking throughput, we have the knowledge and experience to make the project a success.
Contact us to learn about how Midwest Engineered Systems can automate even your most complex and challenging operations today!
Innovation Through Automation
The world's leading manufacturer of construction machinery and equipment.