Trigger & Bottle Assembly System
The Challenge
Midwest Engineered Systems, an automated production line integrator, designed a fully automated system that assembled a bottle within 5 seconds or less.  The following metrics had to be met:
Automatic flywheels introduction from the parts washer
Automatically convey filled bottles of varying sizes to assemble the station
Automatically sort multiple types and orient triggers for assembly
Automatically torque triggers to bottles within specifications
Ultrasonically weld triggers to bottles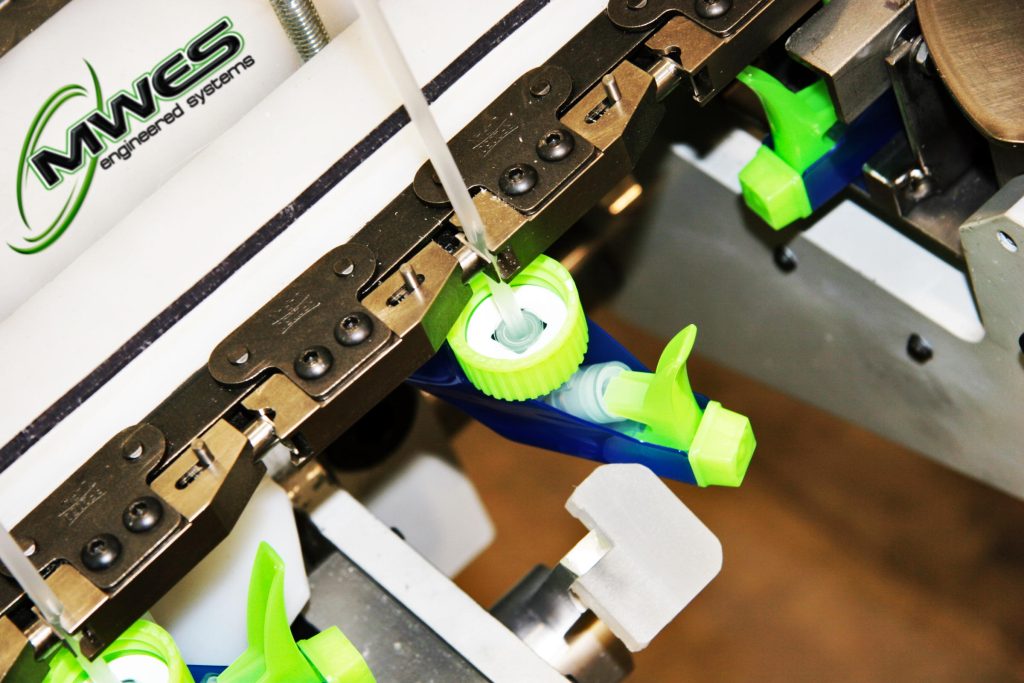 The Solution
The following methods, components and technologies were implemented and integrated to provide a comprehensive solution:
Trigger hopper and flighted conveyor system control trigger introduction
Dynamic trigger picking and orientation using robotics and vision
Dynamic trigger placing using robotics
Full dynamic bottle sortation using LinMot linear actuators
Bottle transportation using custom plastic chain type conveyor
Bottle control using dual servo feed-screw control
Trigger closure torque control using custom servo torque head
Impact to the Customer
The trigger and bottle assembly system MWES provided this customer afforded them the following improvements:
Part rate of one part assembled every 50 seconds or less
Parts are automatically assembled
All trigger closure torques are verified and tracked
All parts are 100% verified
Bad parts are automatically identified and segregated
Midwest Engineered Systems has a wide range of experience in building assembly automation systems. If you're looking to improve your assembly throughput, we have the knowledge and experience to make the project a success.
Contact us to learn about how Midwest Engineered Systems can automate even your most complex and challenging operations today!