Depalletizing System with Vision
The Challenge
Midwest Engineered Systems was challenged to design and build a fully automated robotic depalletizing cell for boxed spray heads that reduces the need for human operators while increasing throughput.
Automation System must supply parts to two lines
Convey full or partial pallet loads to the depalletizing robot
Dynamically pick full boxes from pallets
Automatically cut top of box tape
Empty box contents into production line feed hoppers
Break down corrugated boxes for reuse
Automatically stack pallets and send out full stacks for pickup
The Solution
The following methods, components and technologies were implemented and integrated to provide a comprehensive solution:
MWES developed a custom, compliant end-of-robotic-arm tool (EOAT) with an integrated robotic vision system to recognize individual shipping boxes and their configuration
The automation system can also dynamically detect partial pallets and various pallet patterns using integrated robotic vision
Custom integrated chain driven live roller (CDLR) conveyor system
Dynamic box pallet picking and orientation was achieved using a robotic automation system combined with machine vision
MWES developed a custom box tape cutting system that could be integrated into the automated production system
Custom corrugated box breakdown and stacking machine was designed to facilitate reuse of packaging materials
Integrated pallet handling with MWES Model PS1200 pallet stacking machine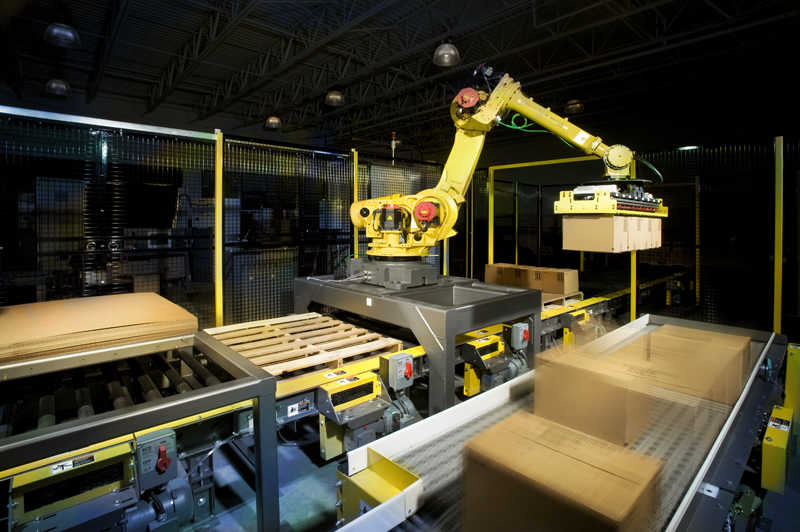 Impact to the Customer
The MWES developed and installed automated production system offered a number of benefits to the customer that had a large impact on overall production efficiency including:
The applied robotic integration achieves a depalletize rate of one box every 30 seconds
The robotic depalletizer feeds two bottling lines
Complete "lights out" automation system operation requiring far fewer operations staff
Used boxes are broken down and stacked for reuse, supporting customer's Green manufacturing initiatives
Midwest Engineered Systems has a wide range of experience in building depalletizing automation systems. If you're looking to improve your depalletizing throughput, we have the knowledge and experience to make the project a success.
Contact us to learn about how Midwest Engineered Systems can automate even your most complex and challenging operations today!