Robotic Offline Programming
Midwest Engineered System's robotic offline programming (OLP) solutions make upgrading or reprogramming your automated system simple. MWES OLP solutions provide adaptability, enhanced robotic capabilities, ease of use and prevents costly downtime. These solutions keep critical production systems up and running.
New to robotic offline programming? Learn how MWES can improve your current robotic programming process.
What is Robotic Offline Programming?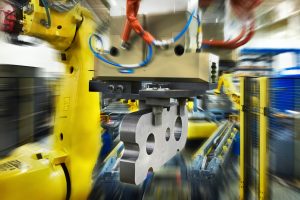 Offline Programming (OLP) is a method designed to program or reprogram robots outside of the regular production line through the use of a disconnected programming environment. OLP can be integrated with computer numerical control (CNC) programming practices, both computer-aided drafting (CAD) and computer-aided manufacturing (CAM). This type of programming works across many different sectors of industrial robotics. This means it can be integrated with, and enhance most organization's robotic operations.
OLP is optimal for production processes with complicated path planning applications. These applications tend to contain many robotic operations, such as laser cutting, laser cladding, welding, painting, deburring, additive manufacturing and thermal spraying.
Simplistic pick-and-place applications, packaging, palletizing and assembly applications would not be well-suited for OLP. Organizations that use offline programming software packages for these type of applications will very likely fail to reach the full ROI of OLP services. If a manufacturing operation only has a few robotic processes, then it's typically better cost-wise to manually program such processes.
Benefits if Offline Programming
Here are some of the top benefits for organizations interested in implementing offline programming into their CNC robotic processes and applications.
Ease of use: Offline programming is much easier to learn than it was decades ago. As a result, more organizations of various sizes can adopt OLP services into their own industrial and manufacturing processes. This greater potential for wider adoption means that small and midsized enterprises (SME) can also benefit from OLP packages for their simulation needs.
No interruptions necessary: With offline robot programming, production can continue without needing to stop to reprogram one or more robots that are actively involved in the production process. Several parts can be programmed offline with OLP software while production continues for every other robot and part involved in the process. Once a new job is needed, the offline program can be switched over and the previously offline robots can return to the normal production processes.
Enhancing robotic capabilities: These OLP software packages can plot out the best robotic trajectories and prevent disastrous robotic collisions and other possible malfunctions. Some OLPs feature user interfaces (UI) that will allow organizations to logistically place parts, effectively perform tool tilting procedures and optimally control external axes.
Adaptability: Many OLP software services handled by third-parties are universal in their applications. They can work with several different kinds of robotic brands and so they are quite versatile. Keep in mind that the OLP services of specific robot manufacturers usually are proprietary and will only work effectively with that manufacturer's brand.
Does your company need a more advanced robotic programing process with more adaptability? Contact us today to see how we can integrate off line programming capabilities into your robotic manufacturing process.