MWES was contracted to build an automated system to case pack bags of produce into boxes, at 160 bags per hour. This innovative process is flexible enough to run different batches, which may have different bag and box sizes, along with different stacks and configurations.
Automation System Features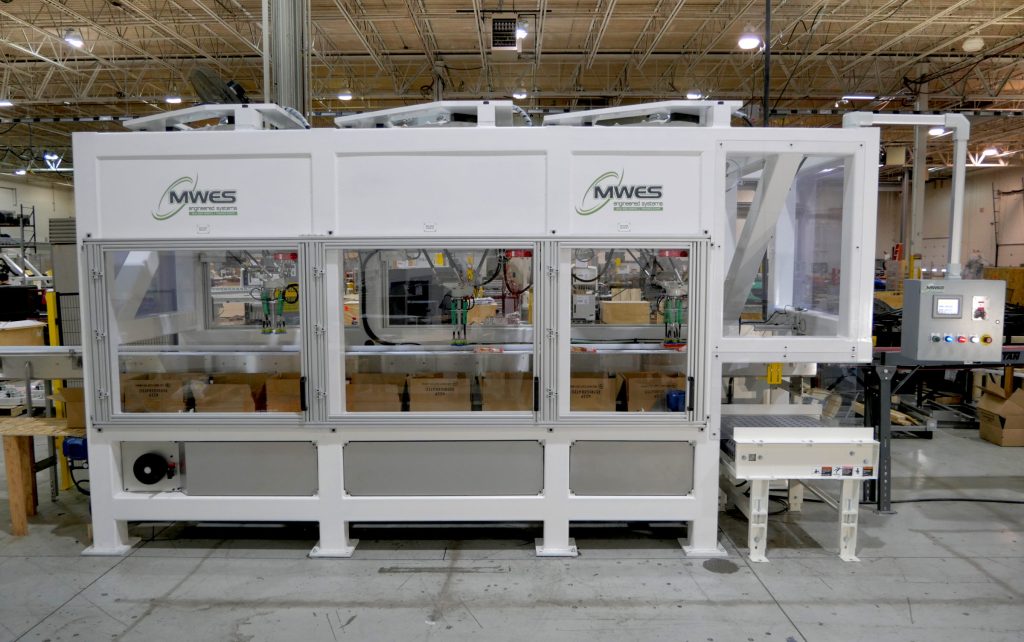 The solution involves five important automation features that make this system more effective and efficient for the customer. The first feature is three FANUC M3iA/6S 4 Axis robots with R30iB Plus controllers with zones venturi vacuum End of Arm Tools (EOATs) to pick/place the products into the boxes. Another feature is the box conveyor that was installed to accommodate various box dimensions. The flexibility is an important feature for the future expansion of different products/packaging with an adjustable hand crank on the outside of the system. A third feature is an encoder tracking system for both the produce bags and the box conveyors which gives the customer real-time position data as the products travel through the system. In order to run the whole system, the FANUC iR PickTool software is running on the robots which makes it easy for the customer to add new product configurations at a later date. Lastly, MWES provided a one-piece custom structure that allows for easy installation and integration into the existing production equipment at the customer location.
Overall, the automated system, in conjunction with existing production equipment, positively affect the customer in two ways; cost savings and reduction in work-related injuries. By automating the packaging process, the customer is able to reduce labor costs by not having the boxes hand-packed. Then work-related injuries are reduced by eliminating the repetitive nature of the task by automating the process.