Midwest Engineered Systems is no stranger to using the most cutting-edge manufacturing technologies. For the past 26 years, MWES has been at the forefront of building the most effective and optimized automated systems in the industry. Additive manufacturing, also known as 3-D metal printing, is one of the latest innovations to take center stage.
Read the article written by the Robotics Industry Association (RIA) Building the Future with Robotic Additive Manufacturing.
Read the Additive Manufacturing article on Control Engineering
MWES' proprietary Additive Manufacturing (AM) process for exotic materials is in high demand due to the expensive manufacturing costs associated with casting, machining out of stock materials, and complex assemblies that could be made significantly simpler as an AM part. The AM process is most popular when used for parts using high-cost materials and that are difficult to fabricate. Other applications include:
Prototypes

Small batch production runs
Replacement parts

Rebuilding wear surfaces
The AM process begins with the preparation of CAD drawings and quality characteristics necessary for the production part. The part is then sliced into layers and formed into a robot path. This path is then translated through a post-processor and transferred to the robot controller. The robot can now perform the task of building the part layer by layer.
Those who are interested in using the AM process can either purchase an MWES AM cell to self-produce parts or order parts from MWES. MWES has a team of engineering experts that provide this technology as a service.
MWES Additive Process Offers: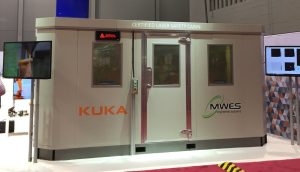 Planning of the workpiece

Preparation of the slicing program

Translation into the robot path program

Process development for laser welding
Laser optic measuring system

Hot or cold wire feed

Safety equipment

Tooling configuration
MWES has identified the need in the industry and now offers a complete solution for additive metal manufacturing. MWES has partnered with several well-known international vendors to develop a complete and scalable solution. The Additive Manufacturing Demonstration System has been showcased at multiple events in the past year such as IMTS and Automate.
Learn more by downloading our Whitepaper A Layer-By-Layer Process for Successful Additive Manufacturing.