Off-Highway Construction Equipment Solutions
Building large-scale products like the ones found in the agriculture, construction and utility industries require large-scale automation and production equipment. It also demands an automation integrator have the specialized knowledge to make these systems work safely and effectively. Midwest Engineered Systems has decades of experience designing and building production automation systems that easily operate on heavy-duty components from tens of pounds to tons.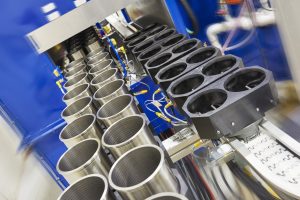 MWES' off-highway equipment experience extends across a number of manufacturing disciplines including welding and fabrication, part grinding and finishing, machining and inspection, to large assembly cells. We're highly experienced in combining operations like the ones above into cohesive robotic factory automation operations that can span entire facilities.
While robotic automation is one of our specialties, we also develop and streamline new and existing manual operations – or build integrated operations that seamlessly combine manual and robotic operations. MWES has built highly efficient human-centered factory production systems that increase throughput as well as provide a data-rich environment that tracks performance and quality.  These predominately human-focused systems can be designed for future automation integration, as needs change. We can do this regardless of the scale of products being made.
In terms of our investment into automating large assembly and manufacturing operations often found in the off-highway, agricultural or construction markets, we've partnered with a number of machine manufacturers who specialize in the format and scale necessary to operate on the parts that these industries need. We have even developed our own extra-large robotic positioners and are no strangers to specifying the heavy-duty equipment needed or building what's necessary to make sure our installations are not only efficient and reliable but safe to use.
If your firm is looking to streamline its current manual operations or looking to automate large component or assembly production, contact Midwest Engineered Systems today.