Material Handling & Fulfillment Solutions
Looking to increase efficiency in locating and marshaling components and materials within the production environment? Fighting a labor-constricted market? Orders coming in faster than the human workforce can handle?
Midwest Engineered Systems has automated material handling solutions that help reduce these concerns and others when it comes to moving materials and products in and out of a production, fulfillment or warehousing operation.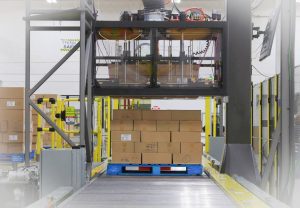 Unloading materials in an efficient manner is just as important as making sure final goods reach their destinations. MWES has developed efficient depalletizing systems for customers in sizes from big-box retailers to craft breweries. Whether building large scale systems that are integrated into complex routing systems to our standard robotic depalletizer systems that can be installed in virtually any small to medium business that relies on human workers to perform these operations, we have the experience to develop a solution that makes short work of distributing incoming palletized materials.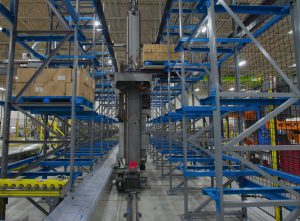 Midwest Engineered systems also offer solutions to manage components, materials and orders within the production environment. Our custom-developed Automated Storage and Retrieval Systems are designed to be placed in existing facilities while offering the same benefits large-scale AS/RS systems provide.
Our systems can act as a buffer system to conveniently store Work in Progress (WIP) materials until the next steps in the process are ready or store orders picked outside of regular shipping hours to expand order fulfillment efficiency. The MWES AS/RS systems can be used to facilitate the kitting of orders, staging jobs for when production time is available. With reporting capabilities available to the system, the MWES AS/RS buffer system can be integrated into current production control software to offer an even greater understanding of a production system's efficiencies.
From highly customized palletizing systems to our standard, drop-in robotic systems, MWES offers robotic palletizing systems that can easily automate the palletizing process. Our standard systems are designed to increase consistency and throughput in pre-existing production operations. Many times these robotic palletizers can fit in the space manual processes currently utilize. If there are requirements beyond these systems, MWES can custom develop an automated palletizer that fits your needs. We have 30 years of experience developing multi-robot, multi-line and even multi-SKU robotic palletizing solutions for a variety of industries.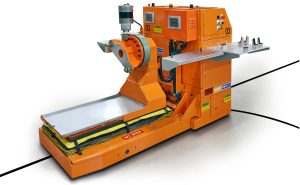 Midwest Engineered Systems knows AGVs and how to implement this technology in ways that offer greater throughput and reliability. Having experience utilizing AGVs to handle the logistics of moving products and materials around a production floor to using them as a basis for building flexible production lines, MWES has the knowledge and the experience to develop an automated guided vehicle system that gets the results you demand.
And much more…
As an integrator, we specialize in building automation systems. That means we have relationships with the firms who produce machines and components to augment the technologies above and deliver complete systems to our customers. You can rest assured that the entire automation project will be managed by a single systems integrator with decades of experience. We have your needs front of mind.