FABTECH is North America's largest metal forming, fabricating, welding, and finishing event. This year at Chicago's McCormick Place, the event lived up to its name with over 1,700 exhibitors and 50,000 attendees!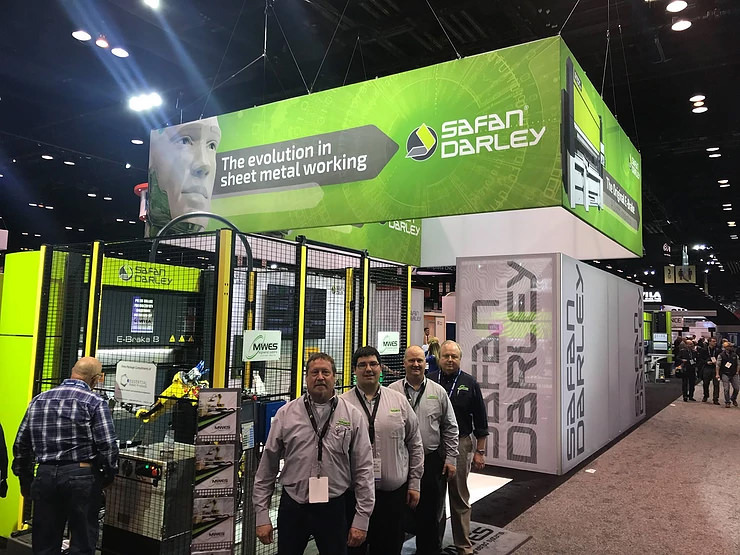 During the show days November 6-8th, we met with several world-class suppliers and saw the latest industry developments and technology. We also found some great tools to help manufacturers improve productivity, lower waste, and find the solutions to meet all of their metal forming, fabricating, and welding needs.
Midwest Engineered Systems Inc. partnered with SAFAN DARLEY to display a customized robotic brake press system during the event. Our sales engineers had a great time talking to visitors and fellow exhibitors to discover what is important to them in their manufacturing facility and the problems they face.
Our Demonstration System Highlights:
Programmed for proper placement, removing operator inconsistencies with increased quality of each part
Part quality will be consistent across all production shifts.
Consistent output and enhanced throughput. Most non-automated press brake cells operate under 65% utilization.
Parts can be programmed using off-line programming software
Tool changing station
Squaring station
Infeed & outfeed stations
Vision System
Press tooling verification
Sensors
Our participation at FABTECH over the years has shown to be increasingly beneficial to not only the industry but as well as our own growth. Our sales engineers continue to meet with new clients and suppliers during FABTECH events to work with for years to come.
Midwest Engineered Systems Inc. is committed to providing simple solutions to complex automation problems. Our engineering staff has technical expertise that includes a diverse knowledge base, building thousands of custom automation systems over the last 26 years.