Midwest Engineered Systems Inc. (MWES), an innovative provider of premier custom machines and integrated systems, will be featured in the Safan Darley booth during FABTECH 2017.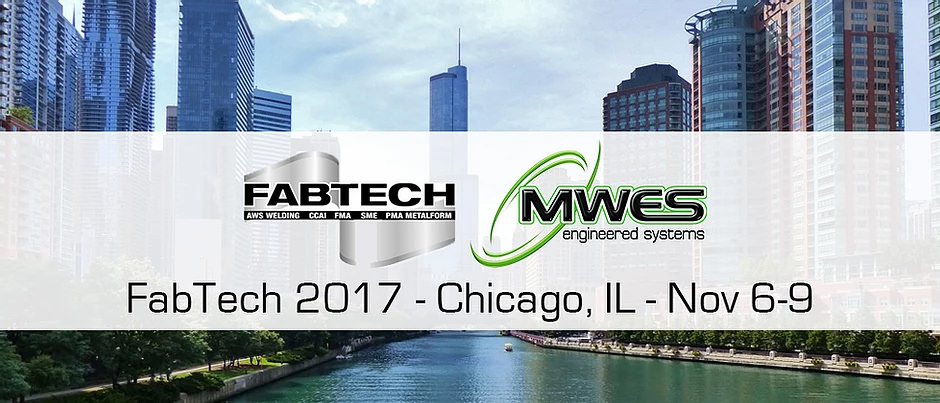 FABTECH is more than just a trade show and conference, it's a celebration of the strength of manufacturing. Attendees have the opportunity to see, touch and learn about the latest innovations in the metal forming, fabricating, welding and finishing industries. FABTECH takes place at McCormick Place in Chicago from November 6-9, 2017.
In the Safan Darley booth number A2638, Midwest Engineered Systems will be displaying a robotic brake press system. Our brake press systems offer increased productivity for metal fabricators. We have standard and custom robotic solutions to work with your CNC press brake. We can integrate any of the major robot brands such as ABB, Fanuc or KUKA.
Midwest Engineered System's Automated Brake Press Demonstration Highlights:
Programmed for proper placement, removing operator inconsistencies with increased quality of each part
Part quality will be consistent across all production shifts.
Consistent output and enhanced throughput. Most non-automated press brake cells operate under 65% utilization.
Parts can be programmed using off-line programming software
Tool changing station
Squaring station
Infeed & outfeed stations
Our standard and custom automated brake press systems come in a wide range of sizes and payloads from 10kg up to 700kg. Added features can also be incorporated to improve your metal forming projects:
Vision systems
Press tooling verification
Thickness gage/double blank sensors
Fanning magnets
Additional end of arm tools, magnets, and mechanical grips
Midwest Engineered Systems Inc. is committed to providing simple solutions to complex automation problems. Our engineering staff has technical expertise that includes a diverse knowledge base, building thousands of custom automation systems over the last 26 years.
Visit Midwest Engineered System's robotic press brake system at Safan Darley booth A2638 during FABTECH 2017
Midwest Engineering Systems Inc. has been providing high-quality custom machine design and automation solutions since 1991.