Waukesha, WI August 15, 2016– Midwest Engineered Systems Inc. (MWES), an innovative provider of premier custom machines and integrated systems will be featured in the KUKA Robotics Corporation exhibit during IMTS 2016 (International Manufacturing Technology Show). The International Manufacturing Technology Show is one of the largest industrial trade shows in the world, featuring more than 2,000 exhibiting companies. This event will be held at McCormick Place in Chicago, IL on September 12-17, 2016.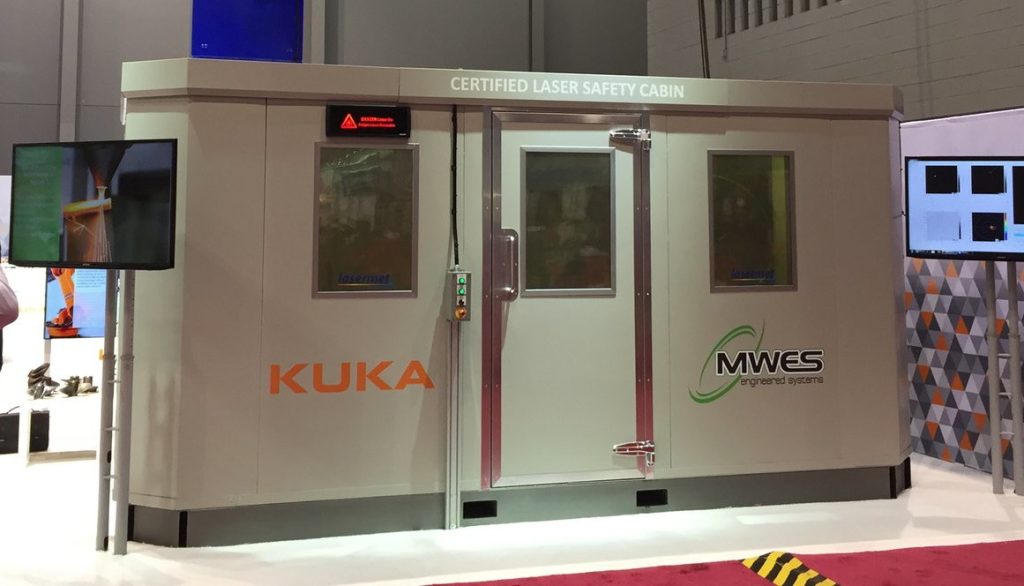 Midwest Engineered Systems will be displaying an additive manufacturing system using KUKA robots during IMTS 2016. This system will demonstrate how manufacturers can optimize prototype part manufacturing and/or low volume part manufacturing with fast speeds, high efficiency, and lower costs than conventional methods. The cell is able to utilize many types of metals but also specializes in exotic metals that are typically used in the Aerospace industry.
Midwest Engineered System's Additive Manufacturing Demonstration Highlights:
5-10 times the speed of powdered metal
1/20th the cost of powdered metal
Dynamic material composition (start with high strength metal and finish with hard wear-resistant metal)
Flexible additive manufacturing
Laser hybrid
Prototype manufacturing
Low volume manufacturing
Exotic metals
Customizable production solution
CAD to the path (CAD/CAM) offline programming
Metal 3D printing
Time and material saver in comparison to conventional prototyping
Midwest Engineered Systems Inc. is committed to providing simple solutions to complex automation problems. Our engineering staff has technical expertise that includes a diverse knowledge base, building thousands of custom automation systems over the last 25 years. This knowledge and expertise, in conjunction with a strong partnership with KUKA Robotics, gives Midwest Engineered Systems the ability to provide complex engineering solutions to the manufacturing industry.
Visit Midwest Engineered Systems Inc. and KUKA Robotics during IMTS 2016 at booth N-6200 in the Fabrication/Laser Pavilion.
Midwest Engineering Systems Inc. has been providing high-quality custom machine design and automation solutions since 1991.