Robotic Material Handling
Rely on Us to Get Things Where They Need to Go – Safely and Efficiently.
From the end of the production line to the edge of the dock, MWES can take your material handling processes to the next level, with fast and efficient automation solutions that increase throughput and reduce reliance on hard-to-staff positions.
MWES has over 30 years of experience designing and implementing automation systems that get results. No matter the industry, our dedicated staff of engineers are adept at understanding specialized and diverse processes from a variety of industries, to deliver systems that are designed to solve the unique problems each customer is looking to solve. MWES can be relied upon to provide a professional material handling system installation in manufacturing and distribution facilities.
Production efficiency is measured from the total time it takes from start to finish – that means taking into account the time and speed needed to get products ready to ship. With more and more production lines using highly automated systems to turn out products, it's becoming increasingly important for the packaging portion of the process to see the same throughput benefits that automation provides to the production side.
To bring those automation benefits to the packaging portion of the process, MWES has developed a number of turn-key case packing solutions that can reduce reliance on using human workers to fill cases. These systems can pack secondary packaging in a variety of case patterns at speeds of up to 180 products per minute.
Using machine vision and easily updateable programming, MWES case packers can be quickly changed over for other product configurations. The machines can be up and running in as little as a day and are designed to fit within the space currently used for manual packaging processes.
For more specialized situations, MWES can custom-develop systems to address these operations. We have the wherewithal to provide efficient solutions that increase throughput and quality based on decades of automation experience and dedicated automation engineering staff on hand.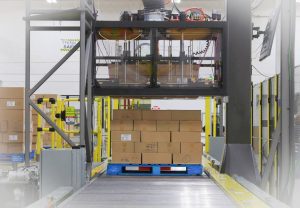 Unloading materials in an efficient manner is just as important as making sure final goods reach their destinations. MWES has developed efficient depalletizing systems for customers ranging from big-box retailers to craft breweries.
Whether building large scale systems that are integrated into complex routing systems, or our standard depalletizer systems that can be installed in virtually any small to medium business that relies on human workers to perform these operations, we have the experience to develop a solution that makes short work of distributing incoming palletized materials.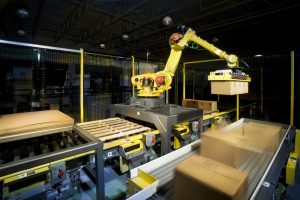 Once the process of packing cases is automated, the next step in increasing performance is automating the placement of the packed cases onto pallets with robotics. MWES has many years of experience designing and building palletizing systems, and turnkey systems that can be quickly installed in existing facilities.
Custom-designed automation for highly specialized operations and footprints are also available. From robotic cells for a single line to track-based systems that can serve a number of production lines, you can count on MWES to provide the depth of experience necessary to engineer a cost-effective and efficient solution that will further reduce packaging bottlenecks.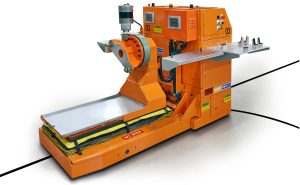 Adding Automated Guided Vehicles (AGVs) to a system provides the ability to seamlessly move palletized products to inventory or shipping without human guidance. AGVs can be integrated into a production system where the entire process can be executed without any human hands involved. That means no more waiting for workers to travel across the facility or accidentally misplace products. It's all automated for maximum efficiency.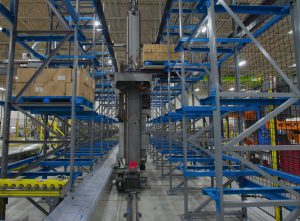 Having worked with a number of production operations in a variety of industries, MWES has developed material storage and buffering systems that are designed to help streamline the production process. These purpose-built AS/RS systems are designed to go into pre-existing facilities without having to redesign the production space layout.
When our AS/RS buffer system is in place, it creates the same efficiencies that large-scale warehousing operations benefit from. The system can automate the storage of orders to facilitate off-peak picking. It can also store partially picked orders until all the needed items are in stock. Both of these benefits are in addition to the key ability to efficiently store more components and products. This makes it easier to retrieve material and organize the production floor, as well as manage inventory much more precisely.
Being more than a distributor of single operation cells, MWES is adept at solving complex production automation challenges that integrate a number of steps into a seamless operation. This reduces manual labor challenges while increasing overall production performance. We can design whole systems that automate the packaging and palletizing of a single product line, as well as systems that can serve several production lines that automate the palletizing of individualized master packs for specific destinations and customers. MWES can combine these capabilities with Automatic Guided Vehicles (AGVs) to automate the shipping, buffering and warehousing of pallets and work in progress, creating an almost 'lights out' material handling operation.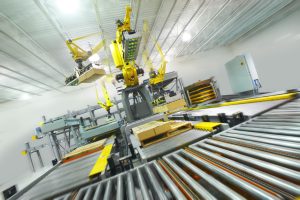 Midwest Engineered Systems integrates value-based material handling systems from simple pick and place robotic solutions to fully-automated turnkey production lines. As a multi-vendor automation system integrator, we offer a variety of material conveyance solutions for product transportation.
We have significant experience designing and integrating a variety of material handling technologies including:
Custom conveyor design
Custom manipulator and lift assists
Integrated sortation systems
Unique material handling solutions
Conveyor integration
Conveyor control systems
Conveyor system retrofits
From our turnkey case packing and palletizing systems, material movement and storage system to machines developed for even the most difficult sorting, picking and packaging operations, MWES has the depth of knowledge to make a difference in your material handling and order fulfillment processes.
Contact us today to learn how Midwest Engineered Systems' unique solutions can streamline your production operations.