Automate Your Material Storage and Retrieval​
MWES's automated storage and retrieval production buffer system is designed for bringing the benefits of AS/RS systems into existing manufacturing and distribution facilities but at a scale that makes sense – both in operation and price.
Open up new levels of productivity
MWES's buffer system can bring a variety of benefits to production facilities, from automating and organizing jig and fixturing storage and retrieval, opening up floor space to acting as a work-in-progress buffer system to bring out the greatest level of efficiency from your operations.
Easy to install and easy to expand
The AS/RS buffer system is purpose-designed to fit into pre-existing production environments. It's also engineered to be easily expanded over time – both vertically and horizontally as your business grows.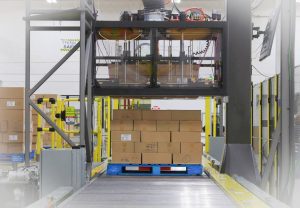 Contact Us
Bring Next Level Material Handling to Your Processes
Get your square footage back while getting WIP under control.  Contact us today to learn about how MWES' AS/RS production buffer system can enhance the way your facility operates.